Build a Business-Ready Website
with These Five Tips
In this Internet-driven age, your website is an online extension of your brick-and-mortar business. Customers are reaching for their smart phones, tablets or laptops to research information on the latest HVAC products and services online 24/7. You don't want to miss a business opportunity because customers have a difficult time locating the HVAC information they need on your website. Let's look at five characteristics of a user-friendly and engaging website.
---
1. Keep the Website Design Simple: Stuffing your website with as many images, videos and animations as possible creates a cluttered feeling. Instead, utilize straightforward design that's easy for customers to follow. Decide on a key message or tagline and convey it through concise copy and targeted design elements on your website.

Check out the home page for Kind Snacks®1 below. Their key message "ingredients you can see & pronounce"®1 is simply stated. Kind utilized user-friendly images and design elements (i.e., product categories across the top of the page and helpful information along the bottom with a clever "Shop Now" button in the middle) to make information easy for customers to locate. Makes you want to buy snack bars just looking at it!
Kind Snacks Utilizes Clever, Straightforward Website Design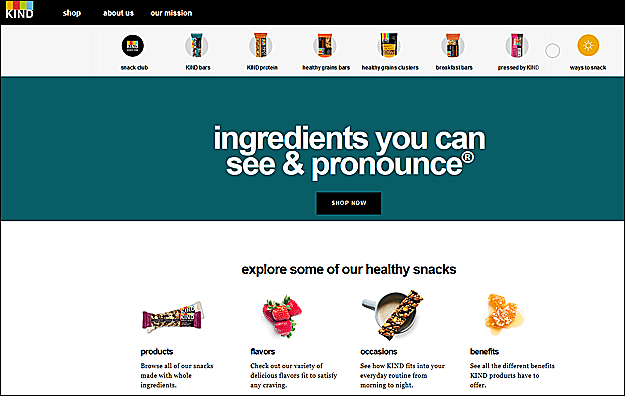 ---
2. Make Sure Your Contact Information is Easy to Find: One of the primary reasons you have a website is to get the phone ringing and customers through the door. So, place your logo, phone number, address and email address in the same, easy-to-find location on every page of your website. It's also a good idea to include a "Contact Us" page that includes your phone number, address (with a Google Maps®2 locator link), business hours and an email form so customers can send a note directly to you from the website.
---
3. Website Navigation Should Be Easy to Follow: If your website has ineffective navigation, it's like sending a customer out on the road without a map or GPS. Site users may not know where they have been or where they are going. They will get frustrated and leave your website. Effective navigation starts with a well-thought-out sitemap. A sitemap is basically an outline of the web pages and key information you would like to include on your website. Think of the website with your customer in mind: What will they likely be searching for? How can you make it easy to locate?
Look at the navigation on KeepRite.com. Main categories that a consumer might search for are listed across the top: Products, Buying Guide, Registration & Warranty, Find a Dealer, etc. If you hover over any of these categories, additional sub-categories drop down from the menu. If a customer is looking for KeepRite® air conditioners, they can easily choose Products, Cooling, Air Conditioners. Voila, everything they need to know about KeepRite ACs. The website navigation is easy to follow so customers can quickly locate the information they need.
KeepRite.com Navigation is Well-Organized and Easy to Follow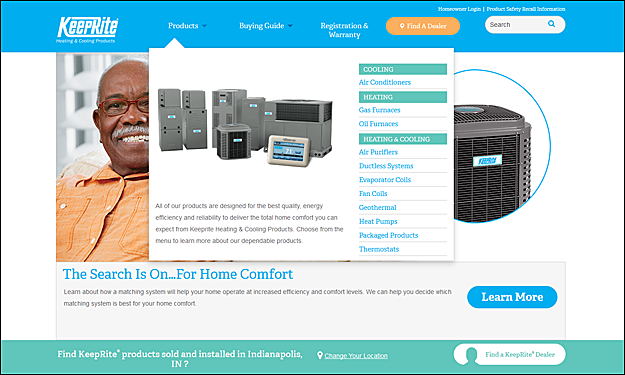 ---
4. Concise Content with Key Words that Drive Customers to Your Business: Keep the customer in mind when you develop content for your website. Copy should be concise, well-organized and targeted to your audience. Use headings, sub-headings and bullet points to make the copy easier to read.
It's important to write for your customers, but you must also write for the search engines. Include relevant key words so customers can find you easily. Key words are those words or phrases that a user types into the Google®2 search bar to locate information on the Internet. If a customer types in "KeepRite dealers in Atlanta" and you are a KeepRite contractor in Atlanta, you definitely want your website to show up in the results. Click here for more information on key words and how to use them effectively using the Google Key Words Planner.®2
---
5. Responsive or Mobile-Ready Site: With over 224 million smart phone users in the U.S., it's becoming critical to have a mobile-ready website or one that can adjust to be viewed on a smart phone, tablet or laptop.3 Click here to see if your website is mobile-ready.
---
When developing your website, you need to think in terms of the customer experience. Design, navigation, content and responsiveness are important characteristics of effective websites. The tips illustrate just a few ways you can ensure your website is user-friendly and open for business.
---
1 Kind Snacks and the "Ingredients You Can See & Pronounce" tagline are registered trademarks of Kind, LLC.
2 Google, Google Maps and the Google Key Words Planner are registered trademarks of Google LLC.
3 https://www.statista.com/topics/2711/us-smartphone-market/