Prepare Your Customers for the Hot Summer with These Energy Saving Tips
The busiest time of the year is almost upon us! HVAC business is ramping up as the outdoor temperatures heat up. Take the opportunity to serve as an educational resource to your customers by sharing some important, seasonal HVAC tips to help them stay comfortable all summer long. Share these ideas with them in person, through direct mail and social media channels.
Below are five ideas to help your customers cut their energy costs during the hot summer months while keeping their families nice and cool:
---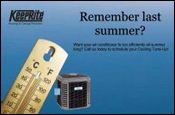 1. Get the Cooling System Ready for Summer
Consider running an "It's Going to Be a Hot One" special that encourages customers to schedule a seasonal HVAC system check-up. Suggest to clients that they schedule the check-up right away to identify any issues before they switch on their air conditioner or heat pump on a hot day only to find out it's not working properly.


---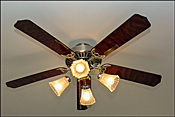 2. Use Your Ceiling Fans
Ceiling fans circulate air in a room to create a draft and make you feel cooler by creating a wind chill effect. According to the U.S. Department of Energy, running a ceiling fan in an air conditioned room will allow you to raise the thermostat setting about 4°F with no reduction in comfort, leading to savings on your energy bills. Remember to turn off the ceiling fan when you leave the room. Fans cool people, not rooms.1
---
3. Don't Heat Your Thermostat
Don't place lamps, TV sets or any other electronic devices that may give off heat near your thermostat. Your thermostat will sense heat from these devices, which can cause your home cooling system to run longer than necessary.2
---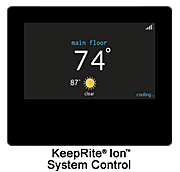 4. Upgrade to a Programmable Thermostat
Save money on your energy bills by setting your thermostat to keep your house warmer than normal while you are away. Tightening the difference between the indoor and outdoor temperatures will result in lower energy bills. A programmable thermostat can help customers avoid any discomfort by returning temperatures to normal before they return home.
If your customers are not yet using a programmable thermostat, suggest the KeepRite® Ion™ System Control to them. The Ion System Control makes it easy to turn up the temperature while everyone is at work and cool off the house up before they arrive back home.
---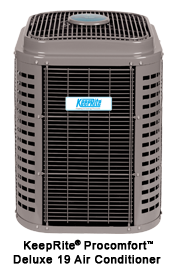 5. Install High Efficiency Equipment
Let your customers know that just like most industries, HVAC technology is constantly improving. Even if a customer's air conditioner is only 10 years old, they may save 20% to 40% of their cooling energy costs by replacing it with a newer, more efficient model.3
The efficiency of air conditioners and heat pumps is rated by the Seasonal Energy Efficiency Ratio or "SEER." An older air conditioner may only be 8 or 10 SEER, but a KeepRite ProcomfortTM Deluxe 19 Air Conditioner achieves up to 19 SEER—which can result in significant savings on energy bills. Help your customers make the right decision for their comfort needs as well as their budget. Then, make sure to schedule the air conditioner installation before the hottest part of the year arrives.
---
Hopefully your customers find these energy-saving tips helpful. Whether you are working with a client in person, through direct mail or via social media channels, be an HVAC educator. Help them learn more about their heating and cooling equipment, how to properly maintain it and how to stay nice and cool this summer without breaking the bank.
1https://www.energy.gov/energysaver/home-cooling-systems/fans-cooling
2https://www.energy.gov/energysaver/spring-and-summer-energy-saving-tips
3https://www.energy.gov/energysaver/central-air-conditioning